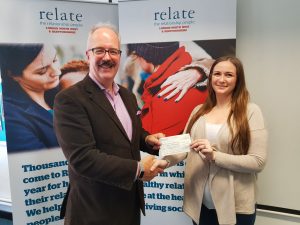 A cheque for £595.56 was presented by Olivia Holburd, Director of Pastiche Musical Theatre to Relate North West London. The money was raised by audiences of our recent production of Wild, Wild Women at the Compass Theatre at the end of March 2018.
Relate are delighted with the funds raised by Pastiche and offered a heartfelt 'Thank You' from everyone at Relate.
The amount raised during Wild, Wild Women now takes the total amount raised by Pastiche to over £57,000! We now hope to break the £58,000 barrier with our upcoming production of Musical Masterpiece at the Compass Theatre in October 2018.