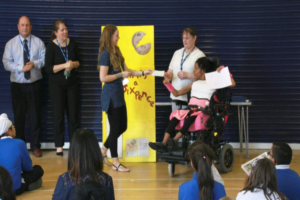 Other than putting on fantastic productions, one of Pastiche's founding aims was to raise money for local and national charities and organisations. We have achieved this by donating the proceeds from an individual production to a nominated charity. Pastiche are incredibly proud of the amount we have raised since our inception and will always continue to raise more money for good causes through our shows.
We have been lucky to have been supported by both Barclays and Camelot at various points throughout our history who have generously match funded amounts that we have raised. We are grateful to both companies for their support.
We are also incredibly grateful to our audiences who have generously donated tens of thousands of pounds over the years.
Below is a list of the charities and organisations we have raised funds for and the amounts we have been able to donate to them.
| | Show | Charity | Donation | Total |
| --- | --- | --- | --- | --- |
| 1997 | The Boyfriend | British Heart Foundation | £600.00 | £600.00 |
| 1998 | Salad Days | Imperial Cancer Research | £500.00 | £1,100.00 |
| | Showstoppers | Leonard Cheshire Homes | £1,315.00 | £2,415.00 |
| 1999 | Divorce Me Darling | Hammersmith Hospital Renal Unit | £700.00 | £3,115.00 |
| | Musical Magic | Kosovo Appeal, NSPCC, Christian Aid | £1,500.00 | £4,615.00 |
| 2000 | Viva Mexico! | Age Concern | £1,300.00 | £5,915.00 |
| | A Musical Encore | MacMillan Nurses | £1,900.00 | £7,815.00 |
| 2001 | Oklahoma! | Great Ormond Street Hospital Renal Unit | £1,800.00 | £9,615.00 |
| | Music! Music! Music! | Alzheimer's Society | £1,800.00 | £11,415.00 |
| 2002 | Little Mary Sunshine | Breast Cancer Campaign | £1,750.00 | £13,165.00 |
| | Musical Moments | Parkinson's Disease Society | £1,750.00 | £14,915.00 |
| 2003 | Fiddler On The Roof | The Samaritans | £2,750.00 | £17,665.00 |
| | Musical Memories | The Children's Society | £2,250.00 | £19,915.00 |
| 2004 | State Fair | The Meningitis Trust | £2,500.00 | £22,415.00 |
| | Musical Miscellany | The Harlington Hospice | £2,250.00 | £24,665.00 |
| 2005 | Wild, Wild Women | Royal National Institute of Blind People | £1,600.00 | £26,265.00 |
| | Musical Momentoes | Home Start, Hillingdon | £1,600.00 | £27,865.00 |
| 2006 | Pickwick | Tearfund | £2,500.00 | £30,365.00 |
| | Musical Medley | Bosom Friends | £2,250.00 | £32,615.00 |
| 2007 | The Pajama Game | NCH - The Children's Society | £2,750.00 | £35,365.00 |
| | Musical Marvels | Hillingdon Autistic Care and Support | £2,250.00 | £37,615.00 |
| 2008 | Follow That Girl | Leukaemia Research | £2,250.00 | £39,865.00 |
| | Musical Mosaics | Peter Pan Ward, Hillingdon Hospital | £2,250.00 | £42,115.00 |
| 2009 | Oklahoma! | Moorcroft School | £2,500.00 | £44,615.00 |
| | Musical Mixtures | Multiple Sclerosis Society | £2,250.00 | £46,865.00 |
| 2010 | Fiddler On The Roof | Leuka - Curing Leukaemia | £850.00 | £47,715.00 |
| | Musical Masquerade | Oasis UK - for people and community | £850.00 | £48,565.00 |
| 2011 | Kiss Me Kate | Rett Syndrome Research Trust | £350.00 | £48,915.00 |
| | Musical Mischief | Dyspraxia Foundation | £350.00 | £49,265.00 |
| 2012 | Carousel | Little Hearts Matter | £1,000.00 | £50,265.00 |
| | Musical Meanderings | June Hancock Mesothelioma Research Fund | £600.00 | £50,865.00 |
| 2013 | Salad Days | MacMillan Cancer Support | £500.00 | £51,365.00 |
| | Musical Madness | Hammersmith Hospital Renal Unit | £350.00 | £51,715.00 |
| 2014 | Thoroughly Modern Millie | Royal Society for the Protection of Birds | £702.55 | £52,417.55 |
| | Musical Mysteries | Young Minds | £389.85 | £52,807.40 |
| 2015 | The Drowsy Chaperone | Prostate Cancer UK | £534.62 | £53,342.02 |
| | Musical Montage | Pastiche (not included in total) | £900.00 | |
| 2016 | Half A Sixpence | Meadow High School | £1,003.29 | £54,345.31 |
| | Musical Melodies | Hillingdon MIND | £536.85 | £54,882.16 |
| 2017 | Hello, Dolly! | Michael Sobell Hospice | £1308.65 | £56,190.41 |
| | Musical Milestones | Hillingdon Brain Tumour and Injury Group | £644.93 | £56,835.34 |
| 2018 | Wild, Wild Women | Relate North West London | £595.56 | £57,430.90 |
| | Musical Masterpiece | Meadow High School | £600.00 | £58,030.90 |
| 2019 | 9 to 5 - The Musical | Little Hearts Matter | £989.73 | £59,020.63 |
| | Musical Merriment | Cancer Research UK | £657.45 | £59,678.08 |
| 2022 | Musical Memory Lane | Prostate Cancer UK | £1720.00 | £61,398.08 |
| | Nunsense: The Mega Musical | London Air Ambulance | £1405.00 | £62,803.08 |
| 2023 | Company | Crohn's and Colitis UK | £1069.00 | £63,872.08 |