With now just 40 days until Pastiche Musical Theatre's first performance of Hello, Dolly! – we thought we would tell you a little bit more about our chosen charity who will benefit from our production, the wonderful Michael Sobell Hospice in Northwood.
Hello, Dolly is Pastiche's 40th production and celebrates Pastiche's 20th birthday. By wonderful coincidence, the Michael Sobell Hospice is celebrating it's 40th birthday.
Our produc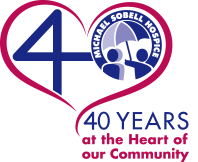 tion will be raising funds for the Parent and Family Support team based at the hospice. This fundraising compliments the fundraising the hospice are doing whilst marking their 40th anniversary.
The patient and family support team helps with psychological and social difficulties, and is made up of a social work team manager, four part time palliative care counsellors, a creative therapies art leader and twelve bereavement counsellors.
Over the years, the hospice and it's wonderful team of staff have helped thousands of families in the local area come to terms with the end of loved ones lives.
One such family is that of our Musical Director, Dan. In 2011, he and his family lost his Grandfather after a battle with cancer. As Dan says:
I am incredibly proud that our production of Hello, Dolly will be raising money for this amazing hospice to ensure that other families and loved ones receive the same care, compassion and support that my family received when we needed it most.
My Grandad went to Michael Sobell for the last few weeks of his life having been cared for at home. Understandably, this was a sad, distressing and difficult time for the whole family. It was extremely difficult for my grandmother and also for my father and aunts as we prepared to say goodbye to a much loved husband, father and grandfather.
The staff at the hospice were just sensational. During the last days of grandad's life, they gave him the very best care to ensure that his passing was dignified, peaceful and most importantly, the way in which he wished it to eventually happen.
As well as supporting Grandad during his final days, the staff and the hospice were equally supportive of my family as they prepared to say goodbye to Grandad and immediately after we lost him. I know just how much my Dad valued their support and care and to this day remains so incredibly grateful to them for everything they did.
Losing a member of your family is one of the toughest things you ever face. The staff at Michael Sobell went above and beyond the call of duty to look after and support not just Grandad, but all of his family during this incredibly sad time in our lives.
Pastiche are thrilled to be raising money for such a worthy organisation. Tickets are on sale now for our production both at The Compass Theatre's Box Office and through our own Box Office.