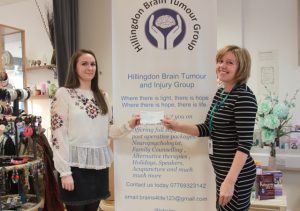 A cheque for £633.94 was presented by Olivia Holburd, Director of Pastiche Musical Theatre to Becky Haggar, co-founder of the Hillingdon Brain Tumour and Injury Group. The money was raised during the annual Pastiche Summer Concert 'Musical Milestones' held at the Compass Theatre in September 2017.
Becky was delighted with the funds raised by Pastiche and offered a heartfelt 'Thank You' from everyone at the Hillingdon Brain Tumour and Injury Group.
Formed in 2009, the charity's aims are to provide active support to anyone in the Hillingdon and surrounding areas affected by any type of brain tumour or brain injury. They do this by seeking to help patients, carers, friends and family live as full a life as possible, with the best quality of life.  The charity also raises awareness in the local medical and general community of the symptoms and effects of brain tumours.
The charity takes pride in offering a unique, life-improving post-operative package for all of their members – including access to neuropsychologists, complementary therapists and all the assistance and advice they need.
The amount raised during Musical Milestones is the highest amount raised during a Summer Concert since 2010, which tops off a remarkable year for Pastiche. Both this show and 'Hello, Dolly!' have raised just short of £2000 for two local charities during our twentieth anniversary year.