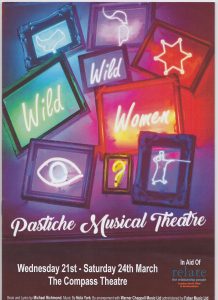 In 2018, we revisited and staged a new production of York and Richmond's wild west comedy, Wild Wild Women.
The show is set in Aggroville, where the Clantons and the McLairds are always killing each other, and where hangin' Judge West and the Earps try and keep control.
Things come to a head when the lovely singing nun, Sister Priscilla, is killed by a stray bullet. Alice Tibbs, of the Peaceable Haven Saloon, convinces all the women folk to take part in a love strike to bring the men to their senses. There is much twitching of the Doves at the Red Candle Saloon and moaning amongst the women, as they sing and dance themselves out of the dilemma.
The score features songs including Peaceable Haven, Aggroville, Bundle Of Joy and the rousing title song Wild Wild Women.
The production raised just short of £600 which was donated to Relate North West London.
This page (and the data contained within it) was published prior to the General Data Protection Regulations coming in to effect. If you would like your data amended or removed from this page, please contact info@pastichemusicaltheatre.com and we will be happy to assist.