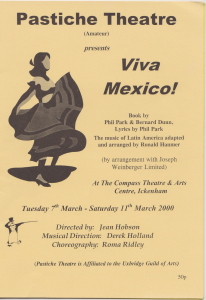 Pastiche saw in the new century with a production of Viva Mexico in 2000.
Mendoza, Mexico's maddest revolutionary, has heard that a stage coach due to pass by El Rancho Grande carries a million American dollars on their way to support the tyrannical rule of the current President. Escorting the fortune is the pompous Senator K. Vanders, of Washington DC, accompanied by his charming daughter Lucille. Since El Rancho Grande is owned by Mama Inez, whose son, Ramon, is one of Mexico's promising young bandits, what is more natural than for Mendoza to despatch Ramon to rob the coach. With the mission accomplished, Pablo and Pepe, who seldom do anything right, are left to bring the stolen luggage back to the Rancho.
The score features well known classics with new lyrics, such as La Cucaracha, Love Stay In My Heart, O Foolish Moon and It's Aztec Night Tonight. The production raised over £1,300 for Age Concern.
This page (and the data contained within it) was published prior to the General Data Protection Regulations coming in to effect. If you would like your data amended or removed from this page, please contact info@pastichemusicaltheatre.com and we will be happy to assist.