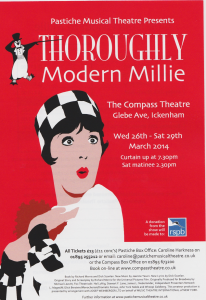 In 2014, we staged a production of the stage version of the film Thoroughly Modern Millie
The show takes you back to the height of the Jazz Age in New York City, when "moderns," including a flapper named Millie Dillmount, were bobbing their hair, raising their hemlines, entering the workforce and rewriting the rules of love. This high-spirited musical romp is a delightful valentine to the long-standing spirit of New York City and the people who seek to discover themselves there.
The score features songs including Forget About The Boy, Long As I'm Here With You, Jimmy and the title song Thoroughly Modern Millie
The production raised over £700 which was donated to The Royal Society for the Protection Of Birds.
This page (and the data contained within it) was published prior to the General Data Protection Regulations coming in to effect. If you would like your data amended or removed from this page, please contact info@pastichemusicaltheatre.com and we will be happy to assist.