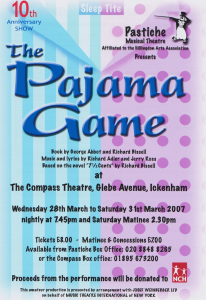 In 2007, our tenth anniversary production was the Broadway classic The Pajama Game
Conditions at the Sleep-Tite Pajama Factory are anything but peaceful as sparks fly between new superintendent, Sid Sorokin, and Babe Williams, leader of the union grievance committee. Their stormy relationship comes to a head when the workers strike for a 7 ½ cent pay increase, setting off not only a conflict between management and labour, but a battle of the sexes as well.
The score features songs including Racing With The Clock, Once A Year Day, Steam Heat and Hernando's Hideaway.
The production raised a record equalling £2,750 which was donated to NCH – The Children's Society. The charity has since been renamed as Action For Children.
This page (and the data contained within it) was published prior to the General Data Protection Regulations coming in to effect. If you would like your data amended or removed from this page, please contact info@pastichemusicaltheatre.com and we will be happy to assist.