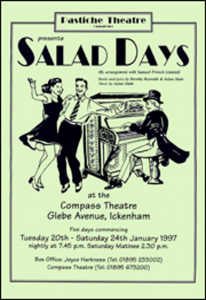 Pastiche performed Dorothy Reynold and Julian Slade's Salad Days at the Compass Theatre in 1998.
The story focusses on Jane and Timothy, a recently married couple who are paid £7 a week by a tramp to look after his mobile piano. They soon discover that when the piano plays, everyone within earshot soon has the irresistible urge to dance.
Despite attempts to ban the piano from playing, the piano disappears and it does down to Uncle Zed to retrieve the piano in his flying saucer. The piano is found and then passed on to another couple to look after.
The score features songs including We Said We Wouldn't Look Back, I Sit In The Sun and We Don't Understand Our Children. The production raised £500 which was donated to Imperial Cancer Research (which became Cancer Research UK in 2002).
This page (and the data contained within it) was published prior to the General Data Protection Regulations coming in to effect. If you would like your data amended or removed from this page, please contact info@pastichemusicaltheatre.com and we will be happy to assist.