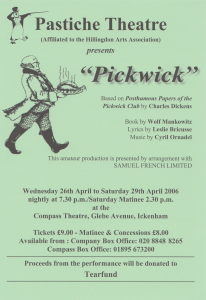 In 2006, we returned to the Compass to stage Pickwick, based on the Charles Dicken's papers on the Pickwick Club.
The story centres on wealthy Samuel Pickwick and his valet, who are in a debtors' prison where they recall the misadventures that led to their imprisonment.
Through a series of misunderstandings, he inadvertently leads his landlady, Mrs Bardell, to believe he has proposed marriage to her. Pickwick is charged with breach of promise and hauled into court, where he is found guilty as charged and sentenced to prison when he stubbornly refuses to pay her compensation.
The score features songs including Business Is Booming, There's Something About You, A Hell Of An Election and the classic standard If I Ruled The World. The production raised £2,500 in aid of Tearfund, a charity dedicated towards eradicating poverty.
This page (and the data contained within it) was published prior to the General Data Protection Regulations coming in to effect. If you would like your data amended or removed from this page, please contact info@pastichemusicaltheatre.com and we will be happy to assist.