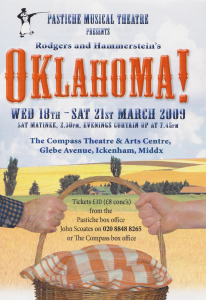 In 2009, we revisited our successful production of Oklahoma which was last staged in 2001.
Set at the turn of century, the high-spirited rivalry between farmers and cowboys provides the background for the love story of Curly and Laurey, despite the efforts of farm hand Jud to derail their romance to have Laurey for himself. Eventually true love prevails and Curly, Laurey, their friends and family live happily ever after as they prepare for their territory to join the United States of America.
The classic Rodgers and Hammerstein score includes Oh What A Beautiful Mornin', Kansas City, The Farmer and The Cowman and the iconic title song Oklahoma (which is now the state's official anthem).
The production raised £2,500 which was donated to Moorcroft School.
This page (and the data contained within it) was published prior to the General Data Protection Regulations coming in to effect. If you would like your data amended or removed from this page, please contact info@pastichemusicaltheatre.com and we will be happy to assist.