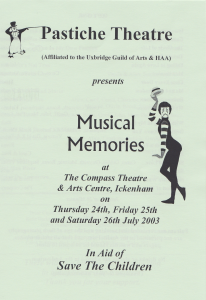 Musical Memories was Pastiche's 2003 summer concert.
Featuring songs such as Comedy Tonight, With A Song In My Heart, Always True To You In My Own Fashion, Born To Hand Jive and Old Man River, we entertained audiences for four performances with songs from musicals such as The Lion King, Fiddler On The Roof, Rent, Copacabana and Half A Sixpence.
The production raised £2,250 which was donated to The Children's Society.
This page (and the data contained within it) was published prior to the General Data Protection Regulations coming in to effect. If you would like your data amended or removed from this page, please contact info@pastichemusicaltheatre.com and we will be happy to assist.