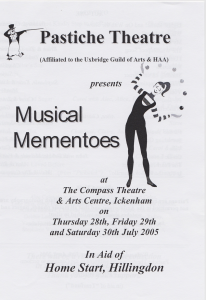 Pastiche returned to the Compass Theatre in July 2005 with Musical Mementoes.
Featuring songs such as I Only Want To Be With You, Pie Jesu, The Pearl Fisher's Duet, A Spoonful Of Sugar and The Girls I Loved Before, we entertained audiences for four performances with songs from musicals such as Oliver, Jesus Christ Superstar, Thoroughly Modern Millie, Pickwick and Guys and Dolls
The production raised £1,600 which was donated to Home Start Hillingdon.
This page (and the data contained within it) was published prior to the General Data Protection Regulations coming in to effect. If you would like your data amended or removed from this page, please contact info@pastichemusicaltheatre.com and we will be happy to assist.