Please meet the Cast and Creative Team of Musical Mixtape…
Taylor Alone
This is my first show with Pastiche after being in various shows with different companies in the past. Musical Mixtape has been such an enjoyable show to be a part of and I've loved getting to dance and sing to so many great songs.
Fiona Bailey
Hi I'm Fiona, I would like to thank you for coming along to support our show. This is the second time I've performed with Pastiche. I am going to be singing a Stephen Sondheim song from Sweeney Todd, I hope you enjoy it and the rest of the show. Thanks again.
Johnny Calvert
I'm excited to be performing in my second production with Pastiche. Doing a concert like this gives you such variety and opportunity to try different styles of singing and performance. It's also given me much more opportunity to spend time with many more of the 'Penguins' that you don't necessarily get in a full-on musical. Off-stage I enjoy working my way through my list of shows I need to see in the West End and working as a Software Test Manager for a large insurance company.
Previous favourite roles include David, Company (Pastiche), Gary Strong, Radio Times (Spotlight MTC), Moonface Martin, Anything Goes (Spotlight MTC) and Tom Collins, Rent (OutWest/Daniel Cox).
Ian Collyer
At last I have come of age! 'Musical Mixtape' is my twenty-first show with Pastiche and is full of the variety and entertainment that I associate with this talented group. In the past – you've heard it all before – I've played judges and crooks, priests and villains, cabaret managers and a sad old boy who doesn't realise he's past it…ah, well. So today in celebration I shall be asking you to join with me – you'll find out how later…
Richard Connolly
I joined Pastiche 12 years ago, joining for Musical Mischief and instantly finding both my tribe and my biggest love – feeding my ego! Oops, I mean, performing! It took the shutdowns of 3 years ago for me to really understand how much I live for the feeling that shows give me, and I am so very grateful to everyone who is and has been part of creating these productions and making Pastiche the incredible company it is. See you in the foyer afterwards!
Daniel Cox
(Musical Director and Orchestrations)
I've been a member of Pastiche (on and off) for 23 years now and can't believe it's my 11th show in my current reign of terror as MD! This concert has been a fabulous one to work on, with so many cracking numbers featured – both my comedy and musical heroes are represented within the score. There are some numbers I've been dying to work on with some of our amazing cast for many years, I'm chuffed I've finally been able to!
Some of the previous shows I have worked on include A Chorus Line, 9 to 5, Company, Rent, Grease, Fame, Hello, Dolly! and Fiddler On The Roof. Enjoy the show!
Molly Fear
I'm baaaaack!
After moving to Aylesbury in 2021 I had taken a break from Pastiche due to the 50 minute commute to rehearsals but having been in the audience for Nunsense and Company and seeing how much fun everyone was having I couldn't not be a part of it for any longer. I have been part of Pastiche for 16 years and we are truly a family. Once a penguin always a penguin. I am so happy to be back on stage and I hope you enjoy this wonderful show.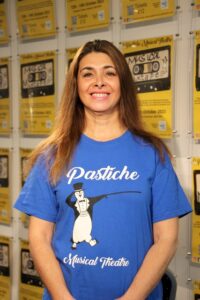 Sarita Gomez
Pastiche have been a great rock to me, especially through recent challenging times. I am so proud to be part of this talented group, who have all worked so hard to bring this amazing concert to the stage. It's full of fabulous numbers that you will know and love, perhaps even join in with! A show that has been fun to rehearse and I look forward to performing in front of our wonderful audience. You will be entertained from start to finish. I hope you enjoy the show as much as I've enjoyed taking part x
Conor Guerin
This show is bittersweet for me, having only been with the company for just over a year, I have to step back from performing with them as I have started training in Musical Theatre at Trinity Laban Conservatoire. I'll miss sharing the stage with this truly beautiful bunch of people, but this is a cracker of a show for a send off.
To all of my Pastiche family, I have an insurmountable amount of love for you all and I will miss you greatly. Enjoy the show!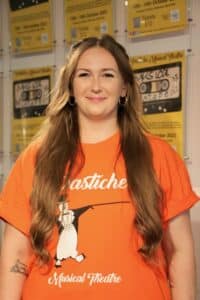 Olivia Holburd
(Director and Choreographer)
This show has been an absolute joy to work on from start to finish! I am so proud of everyone and what we have achieved! The playlist for this show has been on repeat in my house….my daughter's favourite being 'let's do it' 🤣. The variety in this show is fantastic and it has been so much fun putting it together. Altar Boyz… your welcome! (I love it when a strange idea in my head actually comes to life and works 😂) I hope you enjoy the show as much as we are!
Debbie Langford
I absolutely love being part of the Pastiche family – having performed with them since 1999! (You'd think I'd know what I was doing by now!) This show is another eclectic mix of new and old – so we hope you enjoy. I've had my work cut out to learn the 14 verses for my solo and hope I do it justice! The charity we are supporting is very close to our hearts, so please remember every little helps! Thank you to you, our fabulous audience.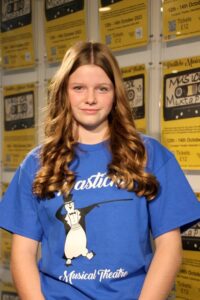 Robyn Langford
Musical Mixtape is my 12th show and in this show I have a solo! I really enjoy dancing to Last Dance and I love singing You Will Be Found. Dig deep and look out for me when you leave!
Joanna Linford
Previously known for my incredible scooter skills in Nunsense and speedy singing as Amy in Company, I'm now excited to be performing in this year's concert. I can't wait to share some of my new found favourite songs with you. I love discovering new shows and this show has provided many great experiences with some wonderful, talented people.
Melanie Margolis
So excited to be "mixing" things up with my Pastiche family. Another fabulous blend of shows which is truly amazing to be a part of.
Gilly Meek
I first joined Pastiche in 2011 and performed in many shows and concerts including Thoroughly Modern Millie (Muzzy), Carousel (Julie Jordan) and The Drowsy Chaperone (Drowsy).
After 3 children, 7 years away from Pastiche and more recently, a house move which has taken me 40 miles away I could not resist and is extremely excited to be back performing in this concert.
I've also performed with more local groups and recently had the pleasure of playing the part of Yvonne in Hi-De-Hi and a Spanish man (Pablo in Sister Act) which was my biggest musical theatre challenge to date given that I do not speak any Spanish! When not performing, I also enjoy being on the production team and choreographing shows.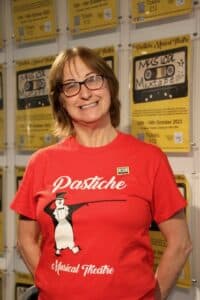 Nina Murphy
This is my second production with Pastiche and I'm loving every moment. With huge thanks and gratitude to my fellow cast and crew members for always making me feel a part of something special.
Enjoy the show and please come back again in March to see Spamalot xxx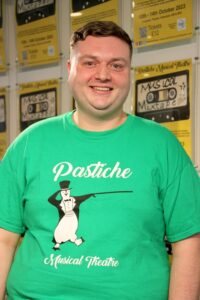 Luca Picchio
I am originally from a small town in the north of Italy I've trained at Associate Studios and CityLit in London.
Theatre credits include: Pablo in Sister Act (musical), Singer in Unlocked: After The Interval (concert), Ensemble in Spring Awakening (musical).
I am thrilled to be making my Pastiche debut in Musical Mixtape and I'm very grateful for this opportunity.
Shivashtie Poonwassie
This is my 23rd show with Pastiche – time really flies! This concert was a lot of fun to rehearse and I am really happy with how it has all worked out. I am especially pleased to be able to perform 'Waiting in Vain' from Get Up, Stand Up: The Bob Marley Musical, it has a different feel to the version we are all used to hearing and I really hope you like it. I would also like to say it has been wonderful to sing and dance alongside our newer members who have all become valued Pastiche penguins! Enjoy X
Matt Ridley
I am proud to be one of the longest serving members of Pastiche. I like to think my talent, generosity and sometimes questionable humour are a shining example of what makes Pastiche so great. I rallied the cast with my sterling performance as Bobby in Stephen Sondheim's Company back in May and have since been enjoying the luxury of portraying a myriad of characters and actually having time to go off stage for a… refreshment 😉
Michael Wright
This is my 20th show with Pastiche. Having joined the cast on stage in 2012, after a stint as a stagehand. It has been non-stop fun. It feels great getting back on stage after Covid. So good to feel the energy of an audience! I love both our named shows like Company and Nunsense, being able to act a role, and our concerts with their big group high power numbers.