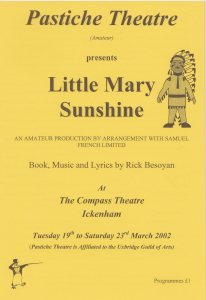 Pastiche presented Rick Besoyan's Little Mary Sunshine in 2002.
The show gently spoofs such old-time favourites like "Rose Marie" and "Naughty Marietta" but has a personality all its own. The plot is a little bit of everything: Colorado Rangers led by stalwart Captain Jim; the lovely Mary Sunshine, her 'naughty' maid Nancy; a chorus of giggling schoolgirls and the ominous but benevolent Indian chief. Hearts are won and lost and won again, in this delightful, laugh-filled and charming show.
The score features songs including In Izzenschnooken On The Lovely Essenzook Zee, Tell a Handsome Stranger, Mata Hari and Do You Ever Dream of Vienna?
The show raised £1,750 which was donated to the Breast Cancer Campaign. In 2015, the Breast Cancer Campaign merged to become Breast Cancer Now.
This page (and the data contained within it) was published prior to the General Data Protection Regulations coming in to effect. If you would like your data amended or removed from this page, please contact info@pastichemusicaltheatre.com and we will be happy to assist.