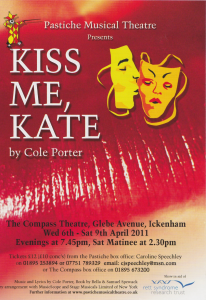 Our 2011 production was Cole Porter and Sam and Bella Spewack's hit musical Kiss Me Kate.
The show starts in Baltimore and to the opening of a musical version of Shakespeare's "The Taming of the Shrew." A play-within-a-play unfolds, where each of the four main cast members' on-stage performance is complicated by what is happening in his off-stage life.
Before the curtain rises on "The Shrew" we find out that Bill has a gambling problem. He tells Lois that he signed a $10,000 IOU for a debt in Fred's name, instead of using his own name. Not long after Lois begs Bill to stop gambling, two thugs show up at the theatre to make it clear that Bill will have to make good on that IOU.
The score features songs including Another Openin' Another Show, So In Love, Too Darn Hot and Always True To You In My Own Fashion.
The show raised £350 which was donated to the Rett Syndrome Research Trust.
This page (and the data contained within it) was published prior to the General Data Protection Regulations coming in to effect. If you would like your data amended or removed from this page, please contact info@pastichemusicaltheatre.com and we will be happy to assist.