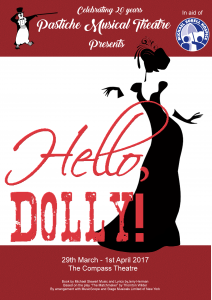 Our 20th Anniversary production in 2017 was the broadway classic Hello, Dolly!
Hello, Dolly! is the story of Mrs. Dolly Levi's efforts to marry Horace Vandergelder, the well-known half-a-millionaire, and send his money circulating among the people like rainwater the way her late husband, Ephraim Levi, taught her. Along the way she also succeeds in matching up the young and beautiful Widow Molloy with Vandergelder's head clerk, Cornelius Hackl; Cornelius' assistant, Barnaby Tucker, with Mrs. Molloy's assistant, Minnie Fay; and the struggling artist, Ambrose Kemper, with Mr. Vandergelder's weeping niece, Ermengarde
The score features hit songs including Put On Your Sunday Clothes, Elegance, Before The Parade Passes By, It Only Takes A Moment and the iconic title song Hello, Dolly!

A record breaking show for Pastiche for many different reasons, the show raised £1,308 which was donated to the Michael Sobell Hospice. It was during this production that Pastiche smashed the £55,000 fundraising landmark.
This page (and the data contained within it) was published prior to the General Data Protection Regulations coming in to effect. If you would like your data amended or removed from this page, please contact info@pastichemusicaltheatre.com and we will be happy to assist.