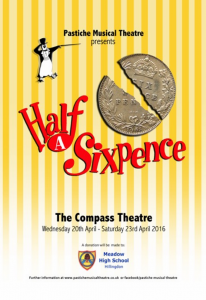 April 2016 saw Pastiche return to The Compass with a production of David Heneker and Beverley Cross's timeless musical. Half A Sixpence has since had a hit major revival in the West End produced by Sir Cameron Mackintosh with a revised score featuring David Heneker's original songs and new songs/adaptations by George Stiles and Anthony Drewe with a revised book by Julian Fellowes.
Filled with memorable songs such as Flash, Bang, Wallop! If The Rain's Got To Fall and Half A Sixpence, the company entertained audiences for five lively performances.
The production raised money for Meadow High School in Hillingdon and thanks to the generosity of our audiences, we were able to donate over £1000 to the school.
This page (and the data contained within it) was published prior to the General Data Protection Regulations coming in to effect. If you would like your data amended or removed from this page, please contact info@pastichemusicaltheatre.com and we will be happy to assist.