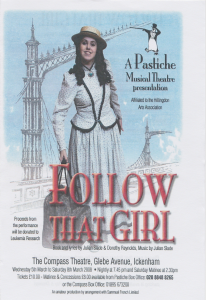 In 2008, Pastiche staged Dorothy Reynold and Julian Slade's Follow That Girl
The story centres on a girl named Victoria Gilchrist, whose parents want her to marry one of two businessmen. She objects and runs away. Her capture after a long chase by a policeman, Tom, leads to romance and finally marriage to him.
The score features songs including Shopping In Kensington, Three Victorian Mermaids, Taken For A Ride and Waiting For Our Daughter.
The production raised £2,250 which was donated to Leukaemia Research. The charity has since renamed to Bloodwise.
This page (and the data contained within it) was published prior to the General Data Protection Regulations coming in to effect. If you would like your data amended or removed from this page, please contact info@pastichemusicaltheatre.com and we will be happy to assist.