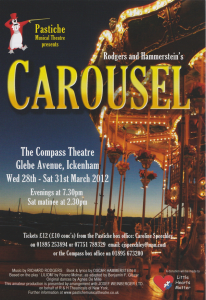 Our 2012 production was Roger and Hammerstein's seminal work Carousel.
The story tells of charming, roguish carnival barker, Billy Bigelow, and mill worker Julie Jordan, both loners, who meet and fall in love. Their marriage ends up costing both their jobs, and things go downhill from there. Billy's desperation makes him violent against those he loves most, and drives him to commit crimes in order to provide for his family. When Billy falls in with con-man Jigger Craigin, he ends up getting caught in the midst of an armed robbery and takes his own life. Billy is allowed to return to earth for one day fifteen years later, and he encounters the daughter he never knew. Louise is a lonely, friendless teenager, her father's reputation having haunted her throughout her young life. How Billy instils in both the child and her mother a sense of hope and dignity is a dramatic testimony to love's transcendence.
The score features songs including If I Loved You, Mr Snow, June Is Bustin' Out All Over and the iconic You'll Never Walk Alone.
The show raised £1,000 which was donated to Little Hearts Matter. It was during this production that Pastiche reached the £50,000 fundraising landmark.
This page (and the data contained within it) was published prior to the General Data Protection Regulations coming in to effect. If you would like your data amended or removed from this page, please contact info@pastichemusicaltheatre.com and we will be happy to assist.