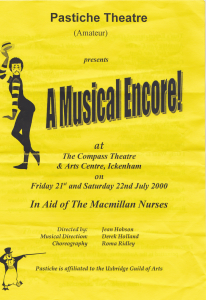 Pastiche staged A Musical Encore in July 2000.
The company entertained audiences for four performances with a mixture of solos, duets and company numbers including Don't Cry For Me Argentina, Boogie Woogie Bugle Boy, Tap Your Troubles Away and Brush Up Your Shakespeare from shows such as Evita, Kiss Me Kate, Viva Mexico and many more.
The production raised an incredible £1,900 for MacMillan Nurses.
This page (and the data contained within it) was published prior to the General Data Protection Regulations coming in to effect. If you would like your data amended or removed from this page, please contact info@pastichemusicaltheatre.com and we will be happy to assist.