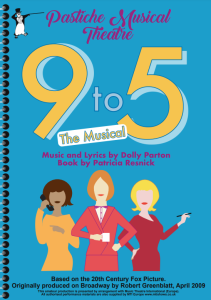 In 2019, we staged a production of Dolly Parton and Patricia Resnick's musical, 9 to 5.
We were lucky enough to be granted permission to stage the show even though the show received it's West End premiere whilst we were rehearsing. We even received break a leg messages from the West End cast and the author of the original film!
Based on the hit movie of the same name, three women decide enough is enough and take revenge on their sexist and nasty boss, making their workplace and the lives of their colleagues a better place.
The Tony, Oscar and Grammy nominated score features songs including Get Out And Stay Out, Shine Like The Sun, I Just Might and the iconic title song 9 to 5.
The production raised just short of £1000 which was donated to Little Hearts Matter in memory of Jessica George.