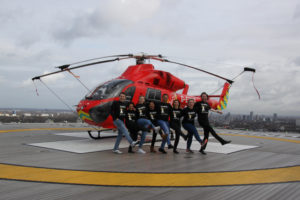 For this production we are supporting the London Air Ambulance.
Founded in 1989, the aim of London Air Ambulance is to save more lives in the London area through providing rapid and cutting edge medical care to those who need it most, be it a fall from height, knife or gunshot wounds or incidents on the roads or our public transport system. They are able to perform open heart surgery, blood transfusions, give general anaesthetic and carry out life saving procedures in situ, meaning their actions save lives.
The Air Ambulance relies almost solely on donations to keep the service running for the 10 million people they serve – having to raise upwards of £8 million a year to be able to do so.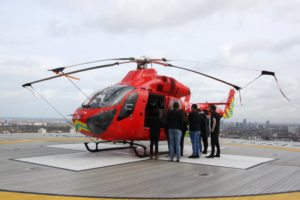 We were proud and honoured to visit the Air Ambulance at their Central London base, meeting members of the team and going up to (the very windy) 17th floor of the Royal London hospital to see the Air Ambulance helicopter for ourselves and learn more about how the charity works. This was in February 2020, before the Air Ambulance went above and beyond for the people of London during the pandemic.
It's not an exaggeration to say that all of us who went were extremely humbled to meet the heroes (our words) who run this vital service and find out more about this wonderful charity
On behalf of the London Air Ambulance, we thank you for donating to our virtual bucket collection!